September 14
Completely unsolicited, Rabbi Justin S. Kerber delivered an amazing sermon to his Jewish congregation for their holy day, Yom Kippur.  The following is an excerpt of his transcribed sermon, which he reported was very well received, alhamdulilah.  The subject of his sermon?  The #MyJihad Campaign and the meaning of the word Jihad according to Muslims.  Please take a moment to read & click below for more!
"Friends, please imagine we are walking in to a huge sports arena for a big prizefight.  Can you hear the chatter of the crowd taking their seats and placing their bets?  Can you see two fighters each in their corners? Do you see their trainers rubbing their muscles while their coaches whisper some last minute words of advice and encouragement in their ears?  Can you smell the stadium smells of hot dogs, popcorn, cotton candy, beer, and the smell of thousands of excited people all together?  If you close your eyes, can you hear the music blaring over the PA system? [hit it, Mike! Eye of the Tiger]  Now, here comes the announcer stepping up to the mic and saying, "Ladies and Gentlemen…Are you ready to RRRRUUUMBLE?"  Out steps the card girl holding up the big number 1 for the first round.  Only she's not wearing the usual skimpy bikini for a card girl in a boxing ring.  No, she's wearing a modest but fashionable dress, and on her head she's wearing the distinctive headscarf of a Muslim woman called the hijab.  (OK, so I admit this neon pink hijab with the Jolly Roger logo on the forehead gives her a hip, ironic look, but this is a prizefight after all.  What's going on here?
We, the American Jewish community, have ringside seats at a prize fight that is shaping up to be one terrific bout.  This fight matters. This fight has profound implications for the future of our country; for Israel; for our whole world and for people of faith everywhere.  This fight deserves our attention
And Yom Kippur is a perfect time to talk about this fight.
What fight?
My friends, the prize at stake in the ring is nothing less than the soul of a major world religion.  The fighter who goes home with the purse wins the meaning of an important concept for Muslims across the world. And the fighter who gets knocked out might lose the ability to define the meaning of a central tenet of Islam itself.  When I say, "Muslims across the world," I am talking about 1.6 billion human beings. Billion, with a "b." That's a fourth, one quarter of the world's population. And I am talking about the world's fastest growing religion.[1]
Convinced yet? Does anyone here think that a fight that matters to 25% of the world might have some implications for the rest of us?  (By comparison, there are something like 14 million Jews in the world – 14 million with an m. That's the scale I'm used to thinking about. I get vertigo thinking about more than a billion Muslims.)
I said that the gold championship belt in this prizefight is the definition of a key concept in Islam. The struggle I am describing is over the meaning of a word.
And the word is:  Jihad.  What is a Jihad?…"
…Continue reading HERE
June 15
MyJihad participated in IMAN's Takin' It To The Streets event in downtown Chicago to share about the MyJihad campaign and recruit volunteers and participants for our next upcoming contest.  YUNA, the Muslim singer featured in our first official MyJihad promo video, even made a special visit to our booth to tell us what her Jihad was and show support for the campaign!  It was a successful event elhamdulilah, further exposing the true meaning of jihad and this campaign.  Click on the image below for more!
June 6
MyJihad was invited to come speak in a forum about free speech and our response to hate speech to 300 high school students. This group of high school Juniors truly impressed us with their understanding and embracing of our campaign. ANY OF YOU can do the same in your community. Email us for a presentation and educate your neighbors on the proper meaning of Jihad and the MyJihad campaign!
Click HERE to read the article published in their high school newsletter.  Click on the image below for more on this event:
May 28
#MyJihad team at Chicago's Bike the Drive event to raise money for Oklahoma relief aid.  Click on image below for more and thanks to everyone who sponsored us!
May 26
Supporters of #MyJihad will "Bike the Drive" in Chicago, riding 15 or 30 miles of Lakshore Drive.  Click below to choose your team member to sponsor!  All proceeds will go to sending #MyJihad volunteers to Oklahoma for relief aid in partnership with ICNA.
May 13
#MyJihad Campaign: The Struggle for Self-Expression: Yasmina Blackburn at TEDxLUC  WATCH:

March 27
First place winner of our 1st official #MyJihad Video Contest awarded to Amr Kawji.

March 16
TEDx Talk hosts #MyJihad at Loyola University in Chicago.  Click on the image below for more:
January 24
MyJihad launches in Washington DC.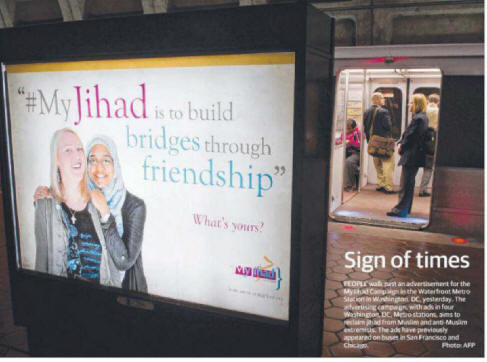 December 25
MyJihad launches in San Francisco.
December 14
MyJihad official public launch. Press conference in the morning. Launch party at 5:30 PM in downtown Chicago. You're invited. Email us via contact page to RSVP.
December 12
MyJihad launches new official website.
December 11
MyJihad ads go live in Chicago on 25 buses! Click below to see photos.