May 26
Supporters of #MyJihad will "Bike the Drive" in Chicago, riding 15 or 30 miles of Lakshore Drive.  Click below to choose your team member to sponsor!
May 13
#MyJihad Campaign: The Struggle for Self-Expression: Yasmina Blackburn at TEDxLUC  WATCH:

March 27
First place winner of our 1st official #MyJihad Video Contest awarded to Amr Kawji.

March 16
TEDx Talk hosts #MyJihad at Loyola University in Chicago.  Click on the image below for more:
January 24
MyJihad launces in Washington DC.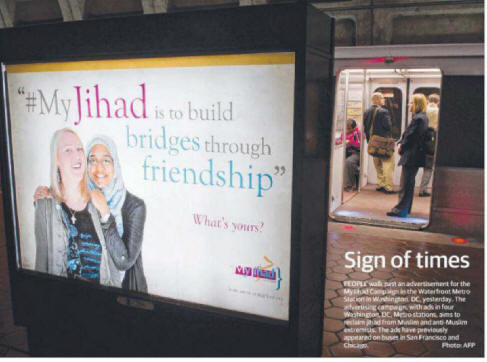 December 25
MyJihad launces in San Francisco.
December 14
MyJihad official public launch. Press conference in the morning. Launch party at 5:30 PM in downtown Chicago. You're invited. Email us via contact page to RSVP.
December 12
MyJihad launches new official website.
December 11
MyJihad ads go live in Chicago on 25 buses! Click below to see photos.