March 2014
MyJihad teams up with Project Sakinah in the jihad against domestic violence!  Click here for more on this initiative and how to get involved!
December 14, 2013
The MyJihad Campaign officially completed its first year!  MashaAllah it feels MUCH longer than only a year ago since MyJihad was first introduced to the world! We believe that's because of all of the things we've been able to accomplish elhamdulilah thanks to all of your support and interest in the campaign.  So many thanks to all of you for following, contributing, and most importantly, inviting us in to teach and share about our struggles and about what it means to be a Muslim in today's world.  Elhamdulilah we have achieved a lot but we only hope it's a beginning to much more in store inshaAllah, as we continue to grow and spread across your communities, striving to take back our words and to represent ourselves.  Jazak Allah Khair – The MyJihad team  (click on image below for more)
September 14
Completely unsolicited, Rabbi Justin S. Kerber delivered an amazing sermon to his Jewish congregation for their holy day, Yom Kippur.  The following is an excerpt of his transcribed sermon, which he reported was very well received, alhamdulilah.  The subject of his sermon?  The #MyJihad Campaign and the meaning of the word Jihad according to Muslims.  Please take a moment to read & click below for more!
"…I said that the gold championship belt in this prizefight is the definition of a key concept in Islam. The struggle I am describing is over the meaning of a word.  And the word is:  Jihad.  What is a Jihad?…"       Continue reading HERE
June 15
MyJihad participated in IMAN's Takin' It To The Streets event in downtown Chicago to share about the MyJihad campaign and recruit volunteers and participants for our next upcoming contest.  YUNA, the Muslim singer featured in our first official MyJihad promo video, even made a special visit to our booth to tell us what her Jihad was and show support for the campaign!  It was a successful event elhamdulilah, further exposing the true meaning of jihad and this campaign.  Click on the image below for more!
June 6
MyJihad was invited to come speak in a forum about free speech and our response to hate speech to 300 high school students. This group of high school Juniors truly impressed us with their understanding and embracing of our campaign. ANY OF YOU can do the same in your community. Email us for a presentation and educate your neighbors on the proper meaning of Jihad and the MyJihad campaign!
Click HERE to read the article published in their high school newsletter.  Click on the image below for more on this event:
May 28
#MyJihad team at Chicago's Bike the Drive event to raise money for Oklahoma relief aid.  Click on image below for more and thanks to everyone who sponsored us!
May 26
Supporters of #MyJihad will "Bike the Drive" in Chicago, riding 15 or 30 miles of Lakshore Drive.  Click below to choose your team member to sponsor!  All proceeds will go to sending #MyJihad volunteers to Oklahoma for relief aid in partnership with ICNA.
May 13
#MyJihad Campaign: The Struggle for Self-Expression: Yasmina Blackburn at TEDxLUC  WATCH:

March 27
First place winner of our 1st official #MyJihad Video Contest awarded to Amr Kawji.

March 16
TEDx Talk hosts #MyJihad at Loyola University in Chicago.  Click on the image below for more:
January 24
MyJihad launches in Washington DC.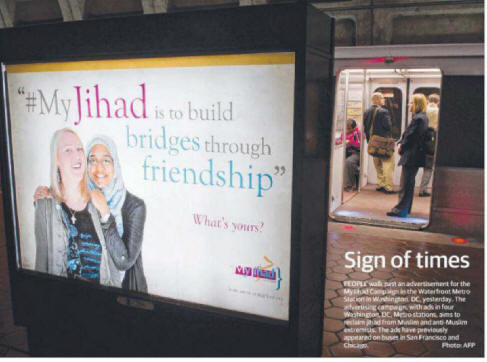 December 25
MyJihad launches in San Francisco.
December 14
MyJihad official public launch. Press conference in the morning. Launch party at 5:30 PM in downtown Chicago. You're invited. Email us via contact page to RSVP.
December 12
MyJihad launches new official website.
December 11
MyJihad ads go live in Chicago on 25 buses! Click below to see photos.